About Matthew - Iggy Awards
---
---
---
The Iggy Awards were conceived by Matthew's Brother Joe.
When Joe was 9 years old he told us he wanted an Iguana. Papa and I told him to get information about Iguanas and we would think about it. He did his research and told us all kinds of wonderful things about Iguana's - leaving for last the fact that they can live to be 25 years old and can grow up to 7 feet long. Papa and I said NO WAY. Joe accepted this but still wanted one very much and often talked to his friends and teachers about it.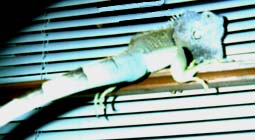 On Joe's 10th birthday I must have been out of my mind. I bought an Iguana and all the gear needed to keep it. I am surprised Papa did not drop me in a sinkhole in the desert. She was kind of cute as a baby, she was a very pretty green and was about 6 inches long. We kept her in a habitat inside the house and when she became older and bigger she would roam around the house eating my house plants and knocking things over with her tail. I would often find her at the top of a window, hanging on the blinds or curtains looking outside. After about 2-1/2 years Iggy grew to be over 3 ft long.
The climate here is pretty warm all year and I decided it was time for Iggy to live outside where she could sun herself and commune with Nature. A neighbor gave me a large cage he had built the sunmmer before when he had adopted 2 orphaned baby squirrels. It was 5 feet high and 5' x 4' square and was covered on the top. Iggy seemed quite content in it. One day it was very windy and raining. Rain was blowing into the cage and we moved Iggy's cage out of the rain. When we did, a small portion of the wire came loose on the bottom. Later that day we discovered the opening and Iggy was gone.
Three days went by and I had just about given up on her. It was a Sunday afternoon and I noticed cars driving by the house and slowing down - the people in the cars were looking at something and pointing. I went to the front yard - and guess who was sauntering up the sidewalk like she owned the place! What a site! This huge ugly green lizard walking up the sidewalk to our house. Not your average pedestrian!
I got her and put her back in her cage in the backyard. But she had her taste of freedom and spent her time clawing at the wires looking for a way to get out. She got out a second time and I had to climb a tree to retrieve her. The third time she was gone for a day. We spotted her the following day at the top of a tree. But it was too high up for me to climb and too high for a ladder. We watched and called to her all day hoping she would come down but she moved to another tree and we soon lost sight of her. That was the last time we saw her.
We hope she is safe and and has found a good home. I am sure we will hear about her when shegets to be 7 feet long! I just hope we move before then. So we made theseIggy Awards for Matthew to give to his cyber friends. This way we know, at least in Cyber Space, where Iggy is and she has a nice home.
You need not apply for these awards, If you have a website and have signed Matthew's guestbook we will visit your site.
Kindest regards,
Lovey

---
---
---
---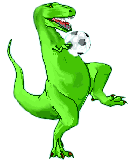 A gift from ~Nomad~
Click on Image to visit Nomad's Dinosaurs * Art * Poetry
---
---
---

Concept, Graphics & HTML Authoring by Lovey
The sun image used for the background etc. was created by Matthew


Midi file playing is "Toads of the Short Forest" courtesy of Jim's Midi Links

Rev.No.07.27.99 © L.Kelly 1998,1999

All photos, images, graphics and printed materials on this web site may not be reproduced, stored in a retrieval system, or transmitted in whole or in part or by any means, electronic or mechanical, photocopying, recording, or otherwise, without the prior written permission fromLovey
---
---
---